2017 Arabian Horse World Championships, Paris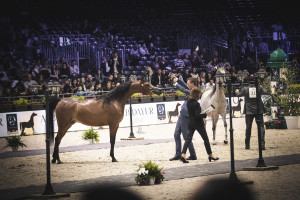 We are extremely proud of our Belladonna AT (Wadee Al Shaqab x Om El Bellatrix) for giving it her all at the world championships and finally being named Bronze Champion Junior Filly!
She was amazing mashallah, and seeing her grow up from a tiny little foal to what she is now brings us so much joy and it's the most rewarding and heart-warming feeling.
Thank you to Tom Oben for showing her so excellently at the world championships and throughout her whole showing career, and everyone at Obi Training Center for taking great care of her and giving her so much love and just being there with her on an everyday basis- Arnauld Mertens, Eefje Appelmans, Emiel Ottes, Danielle Saelens, Lisa Lefebvre and Lenka Schmiedová … It really means so much to us so thank you again!